Avalanche $AVAX blockchain, scores a long-term partnership with International Chess Federation $FIDE to introduce blockchain solutions to the world of competitive international chess.
The Avalanche blockchain, $AVAX, has just announced a long-term partnership with the International Chess Federation, also known as $FIDE, to integrate blockchain solutions into the world of competitive international chess. This collaboration has the potential to bring about a revolution in the way chess is played, scored, and rewarded. With blockchain technology, players can enjoy an improved gaming experience with more security and transparency, while sponsors and organizers can benefit from improved record-keeping and trustless infrastructure. This is an exciting development for both the blockchain and chess communities and is sure to have ripple effects throughout the world of competitive chess.
Ava Labs is thrilled to announce a long-term partnership with FIDE, the international governing body for the game of chess. Through this partnership, Ava Labs will provide the FIDE with blockchain solutions that will help bring the game of chess into the 21st century. Ava Labs will use its Avalanche (AVAX) blockchain technology to help FIDE implement new and innovative solutions in the world of competitive international chess. This partnership will also help promote the use of blockchain technology and expand its reach into the international chess community. Ava Labs is proud to be working with FIDE to bring blockchain solutions to the game of chess and is eager to see the positive impact this partnership will have on the world of competitive international chess.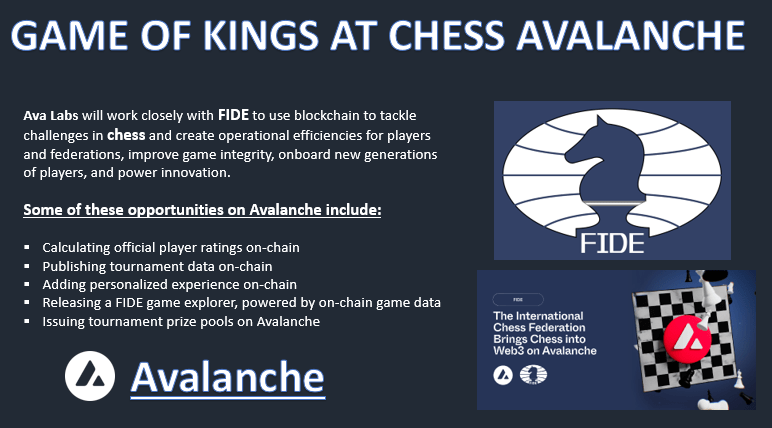 GAME OF KINGS AT CHESS AVALANCHE
Alta Labs will work closely with FIDE to use blockchain to tackle challenges in chess and create operational efficiencies for players and federations, improve game Integrity, onboard new generations of players, and power innovation.
Some of these opportunities on Avalanche include:
Calculating official player rating on-chain
Publishing tournament data on-chain
Adding personalized experience on-chain
Releasing FIDE game explorer, powered bY on-cham game data
Issuing tournament prize pools on Avalanche
Chess Chain is massive as at least 500m chess players globally, and FIDE is working on Avalanche products with Ava Labs. Here are two ways (of MANY) this partnership can create massive value for the sport:
FIDE has partnered with Ava Labs to create Avalanche products for the global chess community, which consists of at least 500 million players. This partnership is expected to generate great value for the sport through various methods.
FIDE tournament data can be printed on-chain, allowing player ratings (e.g. Magnus Carlsen's chess rating) to be calculated automatically and transparently with no errors, as opposed to the manual process which is prone to error and done once a month.
The Ava Labs team is investigating ways to preserve chess game data as a public resource, as current projects managing this data are in danger of losing it forever.
Printing game data to Avalanche will enable future generations of players to access and study the best matches in the sport, providing real value for the entire sport.
A team has entered a partnership with FIDE and Ava Labs in anticipation of the 2022 World Rapid/Blitz Championships, which will begin on Christmas Day. Viewers are encouraged to tune in.
Blockchain provides new opportunities for chess players to get rewarded, which will help to increase interest in the sport and create new web3 chess platforms.