Pi Network is a new type of cryptocurrency that is designed to be both energy-efficient and decentralized. It is built on a Proof of Stake consensus mechanism and requires users to "mine" the currency by simply being online and interacting with the network. Pi Network is a great way for individuals to get involved in the cryptocurrency space without having to invest large amounts of capital. It does not require any specialized hardware and users can earn Pi coins simply by downloading the app, verifying their identity, and "staking" their coins. The goal of Pi Network is to make cryptocurrency accessible to everyone, and by using its Proof of Stake consensus mechanism, it seeks to make it more energy-efficient and secure.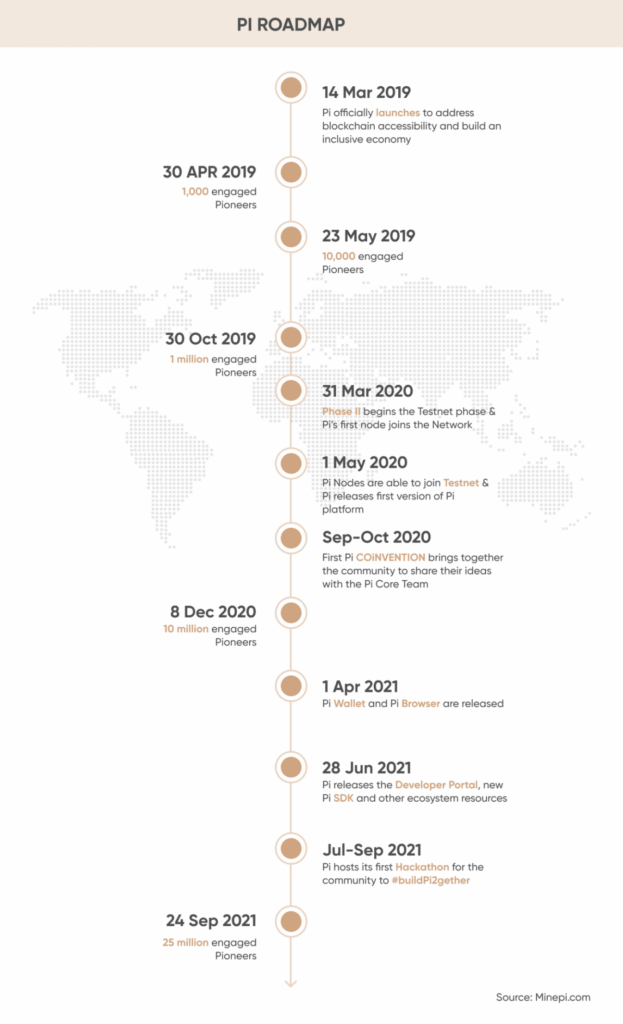 Pi Network aims to keep cryptocurrency mining accessible
The Pi Network is a revolutionary cryptocurrency project that seeks to make cryptocurrency mining more accessible and secure for everyday users. The project is designed to make it easier for people to mine cryptocurrency and earn rewards in the form of Pi tokens. The project is secure and uses a secure protocol to protect users, and it also allows users to mine on their phones or tablets. The project is still in its early stages, but it has the potential to be a game-changer in the world of cryptocurrency. With Pi Network, it could be possible for anyone to get involved in the cryptocurrency industry and reap the rewards.
The Pi Network is based on the Stellar Consensus Protocol (SCP)
The Pi Network is a revolutionary new blockchain project that is built upon the Stellar Consensus Protocol (SCP). This protocol allows for secure and verified transactions using a system of security circles. Each security circle consists of three to five trusted people who validate the transactions. The trust-based system is incredibly secure, as it would be extremely difficult to compromise a transaction when it is validated by several people. This protocol is also much more efficient than traditional blockchain networks, allowing for faster and more secure transactions. The Pi Network is a revolutionary new blockchain project that is sure to revolutionize the way we do financial transactions.
The PI mining app acts as a cryptocurrency wallet
The PI mining app is a revolutionary new way to invest in cryptocurrency. This easy-to-use app acts as a cryptocurrency wallet and is easily linked to a user's mobile phone number or Facebook account. With PI mining, users can start to mine cryptocurrency right away, with the app doing all the heavy lifting in the background. With the app's simple and intuitive UI, users can get started quickly and easily with their cryptocurrency investments. With the PI mining app, users have a secure and convenient way to store and access their cryptocurrency investments.
The project launched with a free PI mining app.
The project, launched on Pi Day (14 March 2019), is an exciting effort to generate funds for charities. It uses a free PI mining app to collect PI cryptocurrency from users all over the world. This cryptocurrency can then be donated to charities of the user's choosing. The project was created to give people an easy way to give back to the community and help those in need. It has been met with a positive response from users, and it is hoped that it will be able to help many people in need.
The app started running advertisements
In May 2020, the app began running advertisements in order to generate a source of financing for the project. This enabled the app to be self-sustaining, as the revenue from the ads could be used to cover operating costs, as well as to fund any future development of the app. The ads were carefully selected to ensure that they were relevant to the app's content and would not be intrusive to the user experience. As a result, the app has been able to grow and develop, while still maintaining its original purpose.
Pi Network has grown exponentially since its launch
As of 15 March 2022, the Pi Network had achieved an impressive milestone with more than 33 million users. This represents an incredible amount of growth since its launch in 2019, and it is a testament to how the Pi Network has been able to capture the attention of so many people. With such a large user base, the Pi Network is well positioned to continue to expand and increase its user base in the future.