The Bahamian Securities Commission (BSC) announced on 29th December 2022 that it had taken custody of more than $3.5 billion worth of deposits from FTX, a popular cryptocurrency exchange. This comes shortly after the BSC had approved FTX to operate in the Bahamas, and shows the Commission's commitment to protecting the integrity of its financial system. The BSC's media release said that the deposits are safe and secure, and will be used to support FTX's operations in the Bahamas. This move is an indication of the BSC's dedication to ensuring the safety and security of all users of the FTX platform.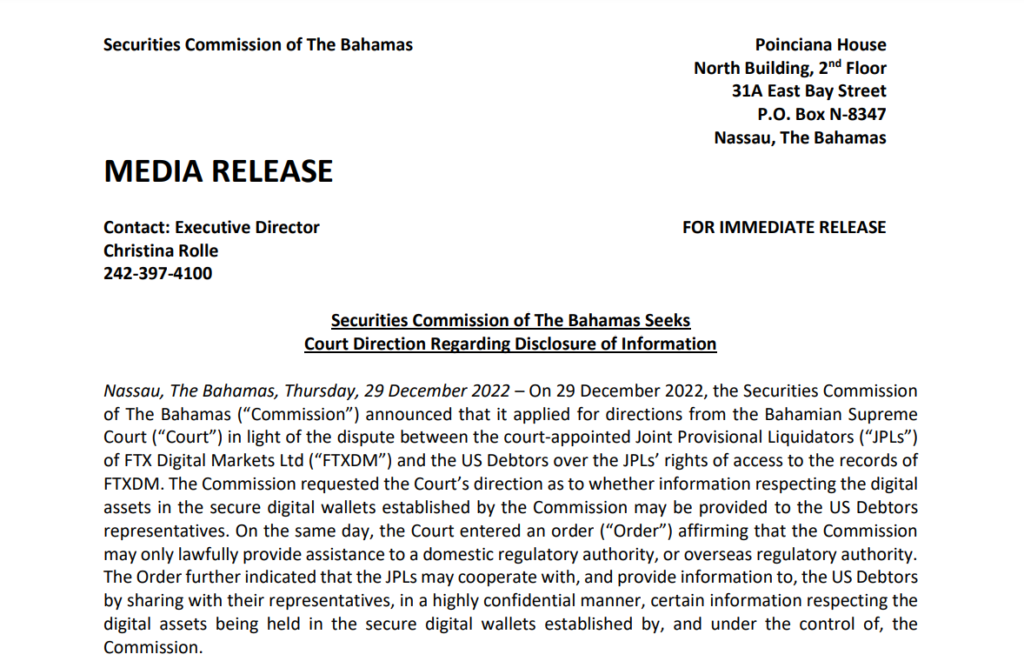 Accordingly, on 12 November 2022, the Commission, in the exercise of its powers as regulator acting under the authority of an Order made by the Supreme Court of The Bahamas, took the action of directing the transfer of all digital assets of under the custody or control of FTXDM or its principals, valued at more than US$3.5 billion, based on market pricing at the time of transfer, to digital wallets controlled by the Commission, for safekeeping. While certain token protocols may require the burning of old tokens and the simultaneous minting of new replacement tokens to effect transfer, in no case, did the process involve the creation of any additional tokens.

Securities Commission of The Bahamas Seeks Court Direction Regarding Disclosure of Information
The unknown hacker who made off with about $372 million of digital tokens from FTX after the exchange filed for bankruptcy has left the public wondering how it happened. Media reports of a cyberattack and possible looting of wallets by former employees are raising red flags and causing concern over the security of digital assets. The Commission has determined there is a significant risk of imminent dissipation of the digital assets under the custody or control of FTX, which could put customers and creditors at a disadvantage. It's a worrying situation that has left many people feeling concerned and uncertain.
The Bahamas Securities Commission has announced that they will hold all assets of FTX until the Supreme Court directs them to deliver them to the rightful owners. This includes the $3.5 billion in tokens that were transferred. The Commission has also clarified that they did not instruct FTX to prioritize the withdrawals of Bahamas-based clients. This statement ensures that assets are held securely until the Supreme Court has made a ruling on their distribution.